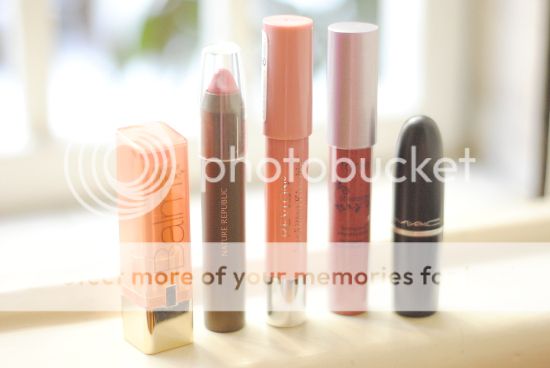 Having to go to Uni pretty much every day of the week, during the past month I have found five lip products that work with virtually any outfit and eye make-up. I can apply all of these even when I'm in a rush and I don't even have the time to look in the mirror. Some of them are my all-time favourite lip products, so let's find them out!


Dal momento che vado all'università quasi tutti i giorni, nello scorso mese sono riuscita a trovare cinque prodotti per labbra che vanno bene con praticamente ogni outfit e trucco degli occhi. Riesco ad applicarli tutti anche quando vado di fretta e non ho neanche il tempo di guardarmi allo specchio. Alcuni di questi sono i miei rossetti preferiti di sempre, quindi andiamo a scoprire quali sono!
1. L'Oreal Color Riche Balm in Caring Coral. This lovely, creamy balm is definitely one of my favourite lip products ever. It gives off a slight coral tint (as the name suggests!) which goes perfectly with my complexion, making it look brighter. I put it on everytime my lips are feeling dry as it's moisturizing without feeling too greasy. It also has the most lovely vanilla scent, which is my favourite for lip products! I got my L'Oréal Color Riche Balm in a swap with a girl from the US - I wish I could buy them in stores here :'(
1. L'Oreal Color Riche Balm in Caring Coral.
Questo adorabile balsamo labbra è sicuramente tra i miei prodotti per labbra preferiti in assoluto. Dà alle labbra una leggera tinta color corallo (come suggerisce il nome!) che si intona perfettamente con la mia carnagione, illuminandola persino. Amo metterlo ogni volta che ho le labbra un po' secche, perchè idrata senza essere troppo pastoso. Ha anche un profumo di vaniglia troppo buono, che è il mio preferito in assoluto per i rossetti! Ho ricevuto questo prodotto in uno scambio con una ragazza americana.. sarebbe troppo bello se fossero venduti anche in Italia :'(
2. MAC Modesty. This lipstick is a brownish nude with no shimmer. It has a Cremesheen finish, so it has a creamy, velvety texture and an opaque finish. It tends to set into the lines of my lips, so I usually just dab it on and pat it on my lips using a finger for a more natural finish.

2. MAC Modesty. Questo rossetto è un nude-marroncino senza shimmer. Ha un finish Cremesheen, quindi ha una texture cremosa e vellutata, e un finish piuttosto opaco. Tende ad evidenziare le linee delle labbra, quindi in generale lo applico con le dita per un finish più naturale.
3. Tarte LipSurgence in Obsession. I have a couple of products from the LipSurgence line and I absolutely love them! I'm just crazy about their texture, finish and minty feeling. This one looks brown in the tube, but actually it's a "my lips but better" kinda shade. It also has some glitter in it, but it's quite subtle. If you haven't already, try the Tarte LipSurgences out!
3. Tarte LipSurgence in Obsession. Ho due o tre altri prodotti della linea LipSurgence e li adoro nel modo più assoluto! La loro texture, finish e il profumo di menta mi fanno semplicemente impazzire. Questo, in particolare, sembra piuttosto marrone nello stick, ma in realtà è uno di quelle tonalità che migliorano il colore delle labbra senza discostarsene troppo. E' un po' glitterato, ma non si nota troppo. Se non l'avete già fatto, dovete assolutamente provate i LipSurgence di Tarte!
4. Nature Republic Eco Lip Crayon #2. This one is for when I want to wear a more bold lip, but I obviously can't wear red lipstick to Uni. Nature Republic is a Korean make-up brand, so this might be a bit hard to get hold of. I would define it as a reddish pink, not quite fuchsia but not quite red; it has a very nice creamy consistency which makes it easy to apply, and even though the lasting power is not the best, it fades evenly, leaving a nice stain effect on my lips.

4. Nature Republic Eco Lip Crayon #2. Questo è uno di quei rossetti che uso quando voglio delle labbra un po' più appariscenti, ma ovviamente portare un rossetto rosso all'università mi sembra un po' troppo. Nature Republic è un brand coreano, quindi questo matitone potrebbe essere un po' difficile da reperire. Lo definirei come un rosa tendente al rosso, non proprio fuxia ma neppure rosso; ha una texture cremosa che lo rende semplice da applicare, e anche se la durata non è delle migliori, sbiadisce in modo uniforme, lasciando un po' di colore sulle labbra.


5. Revlon Just Bitten Kissable Balm Stain in Honey.
It looks a bit different in real life - it's kind of a purple-ish shade, but don't worry, it looks perfectly natural. I have applied only a sheer layer in this photo, but you can see it in full action in my review
here
. Pigmented, moisturizing, plumping - I love the Revlon Just Bitten Kissable Balm Stains and I definitely want to try more of them!
What are your favourite everyday lipsticks? I am always on the lookout for new ones and I'd love to hear your suggestions! :)
5. Revlon Just Bitten Kissable Balm Stain in Honey. Dal vivo è un po' diverso rispetto alla foto - è una tonalità di rosa tendente al viola, ma non vi preoccupate: ha un effetto assolutamente naturale. Nella foto ne ho applicato uno strato piuttosto leggero, ma potete osservarlo in azione in questa mia review. Pigmentato, idratante, rimpolpante - adoro i Revlon Just Bitten Kissable Balm Stains e ne voglio assolutamente provare altri!
Quali sono i vostri rossetti preferiti per tutti i giorni? Ne cerco sempre di nuovi e mi piacerebbe sentire i vostri consigli in merito;)