Remember
this post
? Well, I finally got the chance to try the Lioele L'cret Miracle lipstick! I was so interested in trying these out because they change colour once you apply them! I got one in
#4 Neat Yellow
and one in
#03 Fresh Green
from Keautystore.
I don't know why, but the two lipsticks have different packaging! I really like both. I'm regretting I got both though, because they look pretty similar on the lips. They both come out clear, just like a lipbalm; after a few seconds, they react to the heat of your body and turn to a pinkish red shade. They look like a stain, but they definitely don't last as much. They have the texture, the lasting power and the glossy finish of a lipbalm, but they look like a stain. The photos on the website look a bit deceiving, now that I think about it (but it's like this with 99% of Asian make-up, so no big deal.. I'm used to it)
They don't have any scent, which is nice.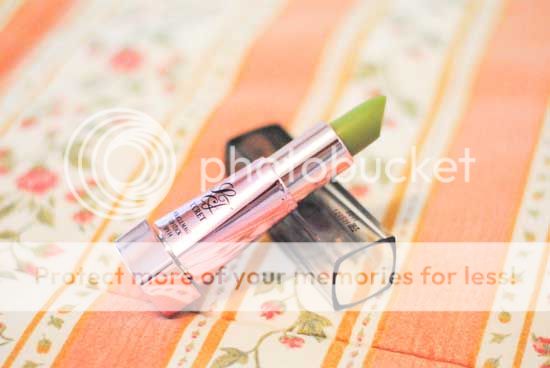 I've been carrying these in my bag for a few weeks now and I've been using them as lipbalms - they're perfect for moisturizing and giving a flush of colour to the lips. Plus, they're definitely not as boring as a Labello lipbalm! ;)
The only downside is the price. For what they do (they're basically lipbalms), they're not worth the $10.20 they retail for on
Keautystore
. They're fun and cute to look at, and if you have some money to spend on "silly" things like these, I'd suggest you try them. If you're just looking for a lipbalm or lipstain, there are plenty other products to try - such as
Tonymoly Petite Bunny Glossy Bar
s that I'm totally in love with.